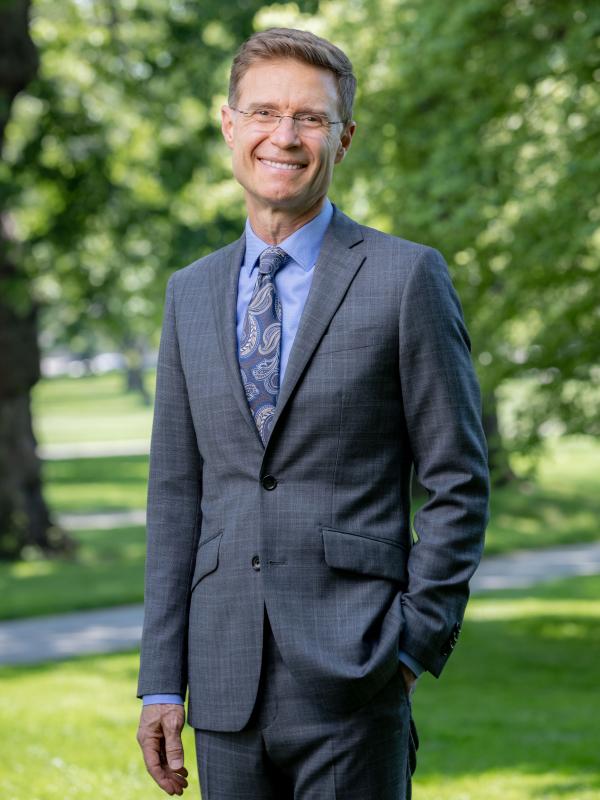 Scott A. Jones, PhD
Director, Barnett Center for Integrated Arts and Enterprise; Professor; Associate Director, University Bands
Areas of Expertise
Undergraduate Conducting Curricula
Conducting and Ensembles
Collaborative Rehearsal Pedagogy
Rhythm Pedagogy
Education
PhD, University of Minnesota
MM, Vander Cook College of Music
BME, The Ohio State University
Scott A. Jones is professor of music and associate director of Bands in the School of Music, and director of the Lawrence and Isabel Barnett Center for Integrated Arts and Enterprise at The Ohio State University in Columbus, Ohio. His primary teaching responsibilities include conducting the Symphonic Band and leading the undergraduate conducting curriculum. Jones is the founding director of the Youth Summer Music Programs at Ohio State which, during his decade of leadership, connected several thousand school-age students from across the country with the School of Music, its faculty, and university.
A deeply collaborative musician and educator, interdisciplinary partnerships frequent Jones' teaching and creative work. Collaborative partners with ensembles under his direction have included visual artists, composers, folk artists, the literary arts, digital media, dancers, and choral ensembles among others. One such project in 2019 joined the Ohio State Office of Diversity and Inclusion, executive producers of the documentary Emanuel, American composer James Stephenson, and the musicians of the Ohio State Symphonic Band in a performance of Stephenson's composition there are no words. The composition honors the victims of the shooting at the Emanuel AME Church in Charleston, SC in 2015.
An ardent supporter of living composers, Jones has commissioned more than 40 new compositions for wind band and chamber winds. A firm believer in creating opportunities for students to interact with great artists of our time, the musicians under Jones' leadership have also collaborated with Libby Larsen, Frederick Fennell, Eiji Oue, Aaron Jay Kernis, Frank Battisti, Seiji Ozawa, Augusta Read Thomas, Eddie Daniels, The Empire Brass Quintet, The American Brass Quintet and a host of other distinguished musical figures.
Jones was honored with an Alumni Award for Distinguished Teaching at Ohio State in 2015, and was recipient of the Ohio State School of Music Distinguished Teaching Award in both 2014 and 2020. His guest conducting engagements regularly include All-State Bands and Honor Bands, as well as international engagements throughout Asia.