Image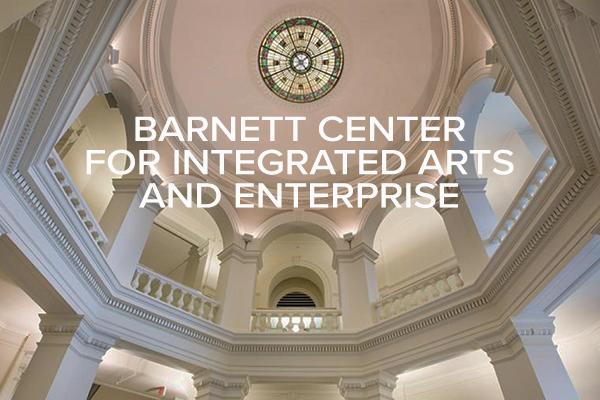 March 3, 2021
2:00PM - 3:00PM
Date Range
Add to Calendar
2021-03-03 15:00:00
2021-03-03 16:00:00
Creative Pathfinders: Barnett Center for Integrated Arts and Enterprise
Online
OSU ASC Drupal 8
ascwebservices@osu.edu
America/New_York
public
Date Range
Add to Calendar
2021-03-03 14:00:00
2021-03-03 15:00:00
Creative Pathfinders: Barnett Center for Integrated Arts and Enterprise
Online
Barnett Center
barnettcenter@osu.edu
America/New_York
public
Advanced
Text
---
Join College of Arts and Sciences alumni, faculty and distinguished guests for a series of conversations that trace the career and highlight the groundbreaking accomplishments of our dynamic OSU alumni in the arts and design. This event is presented by the Barnett Center for Integrated Arts and Enterprise.
---
Media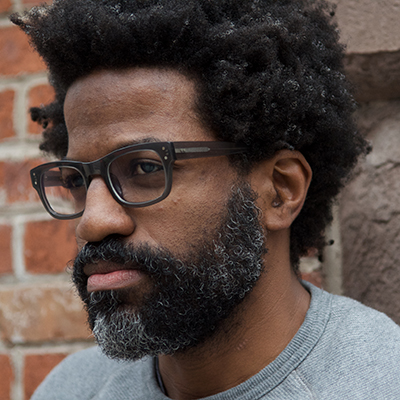 Text
Alumnus: Kumasi Barnett
MFA, Art '08; Visual Artist
Kumasi J. Barnett received his MFA from The Ohio State University, and now lives and works in Baltimore, MD. Influenced by the aesthetics and narratives of comic books, his work subverts and imbues the often-timeless genre with a present-day social consciousness. Barnett frequently paints directly over old copies of comic books, changing their narratives into critiques of police brutality, racial profiling, and more broadly, systemic racism.   
Barnett's works have been exhibited widely both in the United States and abroad, including exhibitions at Lowell Ryan Projects, Los Angeles, CA; the SPRING/BREAK Art Show, New York, NY; City Lore, New York, NY; Con-Artist Collective, New York, NY; The Arsenal Gallery, New York, NY; Sulphur Bath Studio, Brooklyn, NY; and The Brooklyn Public Library, Brooklyn, NY. Museum exhibitions include the Zeitz Museum of Contemporary Art Africa in Cape Town, South Africa; The Boca Raton Museum of Art, Boca Raton, FL; and most recently the Verge Center for the Arts, Sacramento, CA. Barnett presented a solo booth with Lowell Ryan Projects at The Armory Show 2020, in the Focus section curated by Jamillah James. Barnett's work has been featured in Artforum, Ammo, Vibe, Hyperallergic, Huffington Post, Autre, Artnet News, and The Guardian, among others.
Professional Website
http://www.kumasijbarnett.com/
Media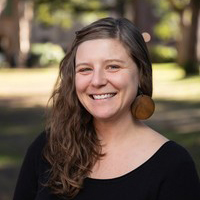 Text
Interviewer: Courtney Hunt
Art & Design Librarian and Assistant Professor, Fine Arts Library
Courtney Hunt is the Art & Design Librarian and an Assistant Professor at The Ohio State University. She holds an M.A. in the History of Art and Architecture from Hunter College (CUNY), and an M.S. in Information Science from the University of Tennessee at Knoxville. Her current research interests explore the research practices and needs of studio artists, as well as critical and feminist pedagogy in art libraries. Her most recent article, "My Work is Work: Artistic Research Practice and Knowledge Creation in the Work of Carmen Winant and Tomashi Jackson," co-written with Michele Jennings (Ohio University), will be published in the spring 2021 issue of Art Documentation. 
Media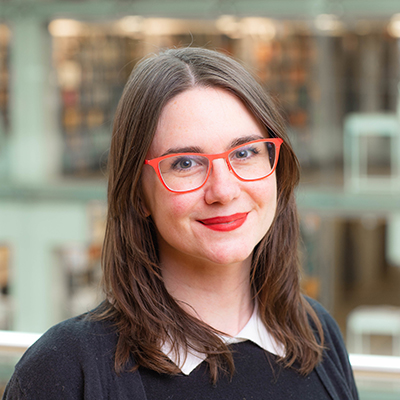 Text
Interviewer: Caitlin McGurk
Associate Curator and Assistant Professor, Billy Ireland Cartoon Library & Museum
Caitlin McGurk is an Associate Curator and Assistant Professor at The Ohio State University Billy Ireland Cartoon Library & Museum, the largest collection of comics and cartoon art in the world. She leads the comics history and education outreach efforts at the library, manages publicity and community events, and curates exhibitions. Caitlin has also worked for and interned at The Center for Cartoon Studies' Schulz Library, the Bulliet Comics Collection of Columbia University, and Marvel Comics. She has written for Diamond Comics Bookshelf magazine for educators and librarians, published her own comics, and serves on the council for Cartoon Crossroads Columbus (CXC) and as a juror for the CMA/CCAD Columbus Comics Residency Program. McGurk's research and scholarship is on women in comics, alternative and underground comics, and early comic strips. Her most recent article was published in the Journal of Lesbian Studies on early queer characters in American newspaper comics. She is currently working on a book about early New Yorker magazine cartoonist Barbara Shermund.  
---